Science of the Surf: Campaign development and evaluation
Case Study
Country: Australia
Author: Dr Julie Hatfield
Organisation: University of New South Wales
Aims
To develop, implement and evaluate a campaign to improve beachgoer recognition of calm looking rip currents, which are known to contribute to surf drowning.
Background
With the Australian coastline spanning over 30,000 kilometres, beaches are one of Australia's greatest natural resources. Nonetheless, beaches may present natural hazards, such as powerful shore breaks and rip currents. Rips are strong currents that take water back out to sea and are able to carry a person more than 100 meters offshore in less than a minute. Rips are the major cause of surf drownings in Australia. Most rip-related drowning deaths occur on unpatrolled beaches or outside of patrol hours.
The end goal of the Science of the Surf project was to provide people with basic knowledge about beach safety, enabling them to make informed decisions about when and where to swim. Following a baseline survey which investigated what type of information would be most useful to beach users, a beach safety campaign was developed and implemented. An evaluation was performed, investigating the campaigns reach and its effectiveness in promoting key campaign messages.
Methodology
A suite of beach safety campaign materials were developed, consisting of a poster, postcard, brochure and factsheet. The key message was "Don't get sucked in by the rip", with a caption clarifying: "Don't be fooled by calm, flat sections in the surf, because these are often rips". The campaign materials aimed to a) improve beachgoers recognition of potential rips, b) improve awareness of the difficulty of identifying rips, c) strengthen the "swim between flags" message and d) reduce panic if caught in a rip.
References
Hatfield, Julie, et al. "Development and evaluation of an intervention to reduce rip current related beach drowning." Accident Analysis & Prevention 46 (2012): 45-51.
Further information/resources
Rip currents factsheet (PDF 109KB)
Waves factsheet (PDF 158KB)
Myths factsheet (PDF 27KB)
Can you spot a rip? quiz (PDF 877KB)
Can you spot a rip? poster (PDF 1,411KB)
Sherker, Shauna, et al. "Beachgoers' beliefs and behaviours in relation to beach flags and rip currents." Accident Analysis & Prevention 42.6 (2010): 1785-1804.
Williamson, Ann, et al. "A comparison of attitudes and knowledge of beach safety in Australia for beachgoers, rural residents and international tourists." ANZJPH 36.4 (2012): 385-391.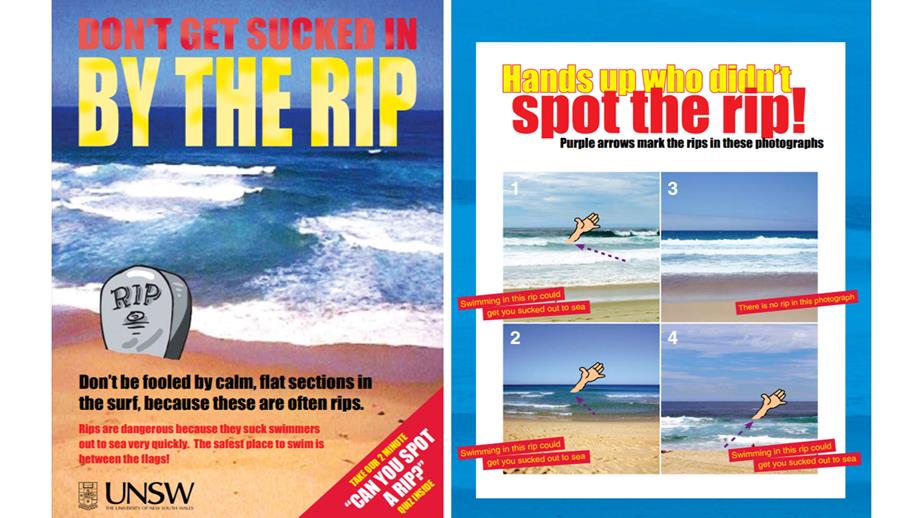 Two coastal holiday destinations in New South Wales, Australia, were involved in the study; one as an intervention area which received the safety campaign, and the other as a control area. Data collection for campaign evaluation occurred at 3 time-points:

Beachgoers were interviewed 1 year prior to campaign implementation, to assess baseline beliefs and behaviours relating to beach safety
Beachgoers were interviewed directly post-campaign implementation, to assess penetration and recollection of campaign components, and changes in beliefs and behaviours
Consenting post-campaign respondents were mailed a follow-up questionnaire 4-6 months after campaign implementation, to assess retention and durability of changes.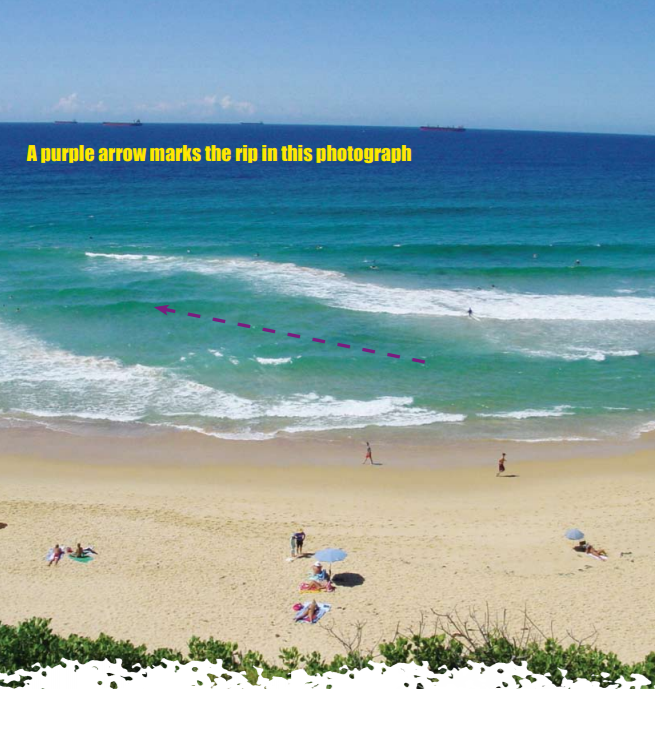 Results
Sample sizes for the intervention (I) and control (C) areas at each time-point were:
Time 1: I - 180
Time 1: C - 196
Time 2: I - 552
Time 2: C - 408
Time 3: I - 221
Time 3: C - 161
Results of the post-intervention survey showed respondents from the intervention area to be more likely to report correct swimming intentions in relation to a rip, believe they can identify a rip, and identify a rip correctly than control area respondents. They were also more likely to report knowing what a rip looks like, but were not able to recall specific features. Intervention area respondents were more likely to report that that they would never swim at an unpatrolled beach and if caught in a rip, would signal a guard, would not swim directly to the beach against the rip, and would float and drift with the rip. Many of these improvements remained 6 months after campaign implementation.
Challenges
Study site selection was challenging, with intervention and control areas required to be similar enough to be comparable, and sufficiently separated to avoid the effects of campaign over-flow. Secondly, it was difficult to assess how often the campaign materials were viewed and what proportion of people actively engaged with the materials. Finally, as the follow-up was performed via posted questionnaires rather than face-to-face interviews, a sample loss occurred at the final data collection time-point.
Replicability
This campaign may be effective in contexts for which its message is relevant. Australia has a unique high-energy coastline which many other countries do not have. The project's methodology of using a baseline survey to inform campaign development, followed by 2-stages of post-campaign testing, could be replicated for a range of public health issues in different settings. It would be valuable to evaluate an extension of this campaign into digital media, such as a video to be show at airports, targeting arriving travellers.
Step 5
Set objectives and interventions
5
View Case Study
Next Case Study
The development of a national drowning prevention campaign targeting alcohol related drowning deaths in males
View Case Study